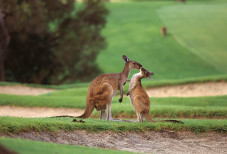 The kangaroos don't hop down city streets in Perth, but there are places to spot them in the wild. Same goes for dolphins, penguins, quokkas and other furry critters. Whether you're looking for an encounter in nature, or a curated experience, there are certainly wildlife spotting options in and around Perth. Here's a few.
Caversham Wildlife Park
This family-owned Caverhsam Wildlife Park houses around 200 species of animals within the grounds of Whiteman Park, 30 minutes drive east of Perth. See Tasmanian devils, wombats, possums, dingos, quoll, flying fox, emus, owls and reptiles. See koalas on the boardwalk, and get a photo taken while feeding the kangaroos.
Perth Zoo
The Perth Zoo is both a fun day out and an exercise in wildlife conservation and education. You can wander the natural enclosures to see animals from around the world, from elephants to gibbons to fairy penguins. The zoo's suggested itineraries make it simple if you're looking for a particular wildlife fix. Daily talks and feeding sessions are also on offer.
Rottnest Island
Named by Dutch explorers for what they thought were rats, Rottnest is one of the few places that quokkas now thrive. Bigger than rats and a lot more smiley, quokkas (there's around 12,000 of them) are one of the island's many attractions. Other wildlife to spot here:  New Zealand fur seals at Cathedral Rocks, bottlenose dolphins at Salmon Bay, bobtail lizards, skinks and osprey.
Penguin Island
Penguin Island is home to WA's biggest colony of the world's smallest penguins. Off the shore from Rockingham, the Shoalwater Marine Park is the playground in which various tours are offered. Depending on the season, you can swim with dolphins, spot sea lions from a glass bottom boat, feed penguins or take a kayak tour.
Whale Watching
If you're in town between August and December, you might be lucky to see the annual migration of humpback whales heading south for the summer. If you're really lucky you might spot them from the beach, but your chances of a sighting are better if you jump on a dedicated whale watching tour. Visit Whale Watch Western Australia or Rottnest Fast Ferries.
AQWA
The Aquarium of Western Australia at Hillarys Boat Harbour is Perth's one-stop wonder for marine life. Its walk-through tunnel is Australia's longest, and gives the surreal impression of walking among sharks, gropers, rays, turtles and rainbow fish. You can also book in for experiences, like diving or snorkelling with sharks. You might even spot a mermaid!
Outback Splash, Bullsbrook
Once the kids have been well lost in the various timber and hedge mazes, up-close wildlife encounters await. The wildlife sanctuary is home to koalas, emus, kangaroos and wombats. An aviary of native birds represents the winged creatures. You can enter the koala sanctuary with one of the Keepers, and pat the soft and cute marsupials. Take your own photos and make your facebook friends and Instagram family jealous.
Kings Park Botanic Gardens
With over 400 hectares of native vegetation, parks and gardens in the heart of the city, Kings Park is a sanctuary for over 70 species of birds. They're best spotted in the mornings around the Banksia Woodlands and Botanic Gardens. Keen twitchers can spot anything from Sacred Kingfishers and Kookaburras to  Rainbow Bee-Eaters.