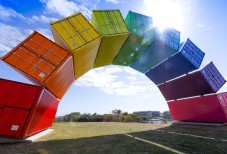 If you didn't take a selfie, it didn't happen, right? But you need to make your backdrops count. Here's our list – some iconic, some quirky – of places to point your selfie stick when visiting Fremantle.
Under the Rainbow
Fremantle's entry statement – a 9 metre high rainbow arch made from sea containers – is shaping up to be the most photographed public artwork in the neighbourhood. Find it on Canning Highway, between the bridges. Be inventive with your angles here. Extra points for wearing rainbow coloured clothing or bringing your own props.
At the warehouse by the sea
Not just any warehouse. The vast frontage of East West Designs in South Fremantle is festooned with a magnificent trompe l'oeil mural, brimming with lush scenes, quirky characters, elephants, dogs, and even the occasional alien. It's Where's Wally on speed, and it adorns dozens of metres across two streets – South Terrace and Marine Terrace (front and back of the warehouse). Find your favourite setting – Africa? Asia? A seaside village? – and put yourself in the most colourful photo of your tour.
With Bon Scott
The late ACDC front man is immortalised in bronze at the Fishing Boat Harbour near Cicerello's Fish & Chips. He won't mind if you join him at his microphone to rip out a bit of Highway to Hell.
At the port
The port's towering cranes – mimicking elegant steel dinosaurs or outsized circus tents – have become an iconic visual reference for Freo. Put yourself in the foreground for a sense of scale. If you jag a day when the Leeuwin is hovering about, you could always make like you're about to take to the high seas on a tall ship. Bonus!
On a sun lounge, at the beach, with a cocktail
Yes, it's now legal. Bathers Beach House presides over Perth's only licensed stretch of beach. All you have to do is keep the sand out of your phone while you capture that memorable moment you got to enjoy a mojito while watching the sun go down over the water. Or while imbibing in the middle of the day – no judgement.
On the Ferris Wheel
There aren't too many hills in Freo, so this is a good option if you're into the as-seen-from-above kind of photo. Capture the towering Norfolk Island pines in Esplanade park from an improbable angle. Shoot gulls squabbling over fish and chips at Fishing Boat Harbour. And you'll probably want to get a shot of the look on your face as your gondola peaks at 40 metres above the ground.
With some zebras
There are two very big, very colourful ones, painted on the side of the building housing Ootong and Lincoln café on South Terrace, South Fremantle. If you're tired of boring shots of yourself in front of unidentifiable scenes, this might be a good re-set. You'll find something imaginative to do in front of the zebras. We know you will.
At the beach at sunset
South Beach – all flat and silvery – can turn on a pretty fine scene as the sun sinks over the water. Stand in front of that for a flattering silhouette! On Saturday nights during summer, the sunset markets add to the mix. Food stalls from around the globe give you something extra to chew on as you watch the sky change colour and plan your Freo slideshow.