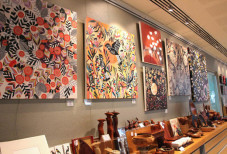 'Made in China' is not what you want to see on the tag when shopping for a memento of Perth. What you're after is the genuine article; something dreamed up, mapped out and created right here in Perth. From small batch spirits to artworks, jewellery, skin care, home wares and clothing, here are some shops that will satisfy your yearning for unique, authentic gifts from right here.
Found at Fremantle Arts Centre, Fremantle
Representing artists from Fremantle and wider WA, this little treasure trove at Fremantle's main arts hub is laden with art prints, paper cuts, jewellery, textiles, stationery, books and ceramics. You can't really go wrong shopping here; gravitate to what you fancy and find a price point to fit.
1 Finnerty Street, Fremantle 
Angove Street Collective, North Perth.
A swag of independent creative small businesses have joined forces to make a big impact at this go-to gifts and home wares store. The quality is excellent and the wares here are certainly not the same as what you'll find in every high street gift shop. Many of the retailers are one-person operators without shopfronts of their own, doing interesting things with paper, timber, silver, textiles, planters and flowers. There's an adjoining café.
31 Angove St, North Perth
Future Shelter, North Perth
All the gear here is locally designed and manufactured, and inspired by local landmarks, flora and fauna. Beautiful laser etched bread boards, fabric lamp shades, art prints and textiles are among the quality products made by a local design duo.
56 Angove St, North Perth
The Artisan Store, Fremantle
Connecting artists with shoppers, this space features cubes, shelves and walls heaving with the collective work of Western Australian artists. Find paintings, prints, ceramics, glass ware, textiles, jewellery and woodwork that's unique to the store.
81A High Street, Fremantle
Common Ground Collective, Fremantle
It's a more youthful vibe at this WA-only artists collective. Tees and other clothing are highlights among the stationery, jewellery and artworks showcasing the local youth culture.
82 High Street, Fremantle
Aspects Kings Park
The local flora and fauna is the common thematic thread running through the artworks, cards, textiles, jewellery and gorgeous ceramics on display in this premium gift store in Kings Park. Local artists are also the heroes. Also: great windows.
Fraser Avenue, Kings Park.