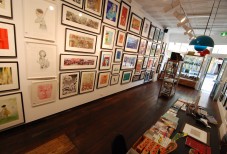 Art galleries remain a great way to take the temperature of a city. The advent of social media sales and other artist-led initiatives has seen a change in the gallery landscape. It's more fragmented, but the galleries that remain work hard to earn their place as cultural hubs. Here's a few worth seeking out in Perth.
The Art Gallery of Western Australia, Perth City 
The beating heart of Perth's Cultural Centre, the State Gallery houses contemporary and historical art, along with a fine collection of indigenous art. You might catch a visiting blockbuster, but at any time of year the various galleries show permanent collections from eras old and new, as well as a changing palette of temporary shows. Allow some time to take it all in. A good gift shop and cafe make pleasing breathers.
Gallows Gallery, Mosman Park
Exhibitions change every three weeks at this neighbourhood gallery. Carefully curated work from Western Australian and Australian artists is showcased. Paintings, sculpture and print making feature in the lineup of much anticipated artwork. Smaller galleries within house pieces from Gallows' regular stable of artists.
PICA, Perth City
Want a fix of contemporary, thoughtful art? The Perth Institute of Contemporary Art is your place. Just opposite the State Gallery, PICA's offering is edgy, and covers everything from painting to installation to performance and dance. When you're done here, the PICA Bar has people-watching aplenty.
Linton and Kay, Subiaco
Linton and Kay hosts ever-changing exhibitions in its intimate Subiaco gallery.  They specialise in contemporary painting, sculpture and Aboriginal art, so private and corporate collectors find particular interest here. Works by established and emerging artists from around Australia and the world feature here.
The Fremantle Arts Centre, Fremantle
The structure itself is a highlight. Once an asylum, the grand limestone building with peaceful, shady grounds is now Fremantle's cultural hub. Galleries big and small host ever-changing exhibitions, from contemporary painting to print making and installation. Artist studios co-exist in the space, and regular workshops bring a sense of activity. Music performances are also big here (Sunday afternoons in the summer months see free concerts on the front lawn) and the leafy cafe courtyard is gorgeous.