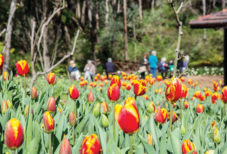 Spring in Perth delivers unique experiences that attracts thousands of people from around the world every year. Nature delights us with her carpets of colourful wildflowers, her migrating whales passing our shores and baby quokkas emerging from their mother's pouch. With plenty of sunshine and perfect temperatures, spring is a great reason to turn off the Netflix and head outdoors for some weekend adventure. Here are some suggestions to see and do in Perth this spring:
Attend a Spring Festival
Spring is the ultimate time for festivals and Perth showcases plenty! During October and November, Perth Hills Spring Festival in Kalamunda offers beautiful scenery, local boutique shopping, food, cafes, wineries, and a host of events and activities such as markets, music, photography, plus Kalamunda Open Studios and Kalamunda Artisan Markets. Held annually, the Araluen Tulip Festival and the Kings Park Festival pays homage to our incredible and diverse wildflower season and spring blooms. Other spring festivals to enjoy are Fish & Sip Festival, the George Street Festival, Italian Film Festival, Perth International Burlesque Festival, and Summer Salt Markets. 
Go whale watching
Every year over 60,000 humpbacks, southern right and blue whales migrate from the feeding grounds of Antarctica to the warmer Indian Ocean waters to breed and give birth off the WA coast. From September to December you can spend a day in the glorious spring sunshine and get up close and personal to these majestic creatures on a half-day cruise, or you may even spot them from the shore if you're lucky! Whale Watch Western Australia and Whale Watching Perth offer whale watching cruise departing from Fremantle and Hillarys Boat Harbour.
Visit the wildflowers
In a normal pre-COVID world, in late winter and spring, Western Australia would welcome approximately 50,000 visitors from across the globe every year to specifically view our incredible wildflowers. We have the largest collection in the world, a whopping 12,000 species, 60% of which aren't found anywhere else on earth. Within an hour of the Perth CBD you can experience these magic carpets of colour… and they make for great selfie backdrops as well! Visit our Wildflower Blog for a list of wildflower spots to head to.
Indulge at a foodie event
Bit of a foodie? Spring is the perfect time to venture out and try all that Perth has to offer in cuisine. The Good Food and Wine Show in Claremont opens in November to showcase all of Perth's unique food creations and wine pairings. With attendances of celebrity chefs, live cooking demonstrations, opportunities for masterclasses, and an array of new products to sample, this event is ideal for foodies this spring! There are plenty more of course such as new menu launches, open-air markets, wine festivals such as Entwined in the Valley –  visit our events section for more foodie suggestions.
Take a hike
With the weather not yet at the summer boiling point, spring is the perfect season for a peaceful hike or walk-in nature. If you're an experienced hiker, you might want to explore Palm Terrace Walk in Forrestfield. With flowing waterfalls and thriving wildflowers, this trail is a 5.5km loop with multiple picnic areas, water access points, and much-needed public toilets. If you're in the mood for something easier, Piesse Brook Interpretive trail might be better suited; with a distance of 3km, this trail is the ideal starting point for hill hikes with stunning views. Lesmurdie Falls National Park is yet another beautiful hike trail, along with Gooseberry Hill and Whistlepipe Gully. Perth Hills offers plenty, Ellis Brook Reserve, Wungong Gorge Walk, or Kittys Gorge in the Serpentine National Park. If hiking isn't quite your speed, try the various walking trails around WA, the Scarborough-Trigg Heritage Trail, Bold Park in City Beach, Burswood loop, Matilda Bay Reserve or Kings Park.
Relax with a picnic in a glorious Perth park
Seeing all the aesthetic picnics on your Instagram and Pinterest spark great inspiration for this spring. So take advantage of this beautiful weather and pack fruits, cheese, bread, and some drinks to enjoy these not too hot, not too cold days. Queens Garden in East Perth is a perfect destination, with flowers, lakes, perfect grass, and even undercover gazebos for those sunnier spring days. Or Matilda Bay Reserve in Crawley, where you may catch a glimpse of the 20 bottlenose dolphins who inhabit the swan river in front of the parkland. Perth has many picnic-worthy parks, if you're looking for more ideas try Sir James Mitchell Park along the South Perth foreshore, Kings Park, Araluen Botanic Park, Burswood Park, Heirisson Island, and Whiteman Park.
Visit Fremantle Markets
Have a hankering for some shopping? Visiting Fremantle Markets with over 150 stalls of goodies might be exactly what you're looking for.  Set in a beautiful old heritage building with an endless amount of organic produce, artisanal cheeses, and unique gift ideas, it'll be a great way to spend a day. Grab a coffee in The Yard, stroll around browsing the gifts, homewares and art, and check out Clara's Wholefoods for olive oil and various organic products. Take a look in The Hall for some live music and art with stalls of products made by local Fremantle artists. Furthermore, if you're over 18, try out some of the regional beers at the market bar!