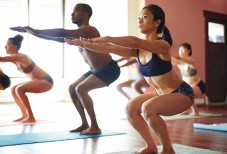 Perth's winter is typically mild, but when it's not warm enough for the beach, turn to its markets, cafés, bars, galleries and hiking trails. Here's a few ideas.
Take a walk
Great for those brisk but sunny Perth winter days, walking is both scenic, and ideal for shaking off all those restaurant meals. If the ocean's too wild, amble along the Swan River trails anywhere between the city and Fremantle. Serious nature lovers can head out to the hills for a more substantial bush walk. Close to the city, walk among the shelter of tall trees in Kings Park. You won't believe you're minutes from the CBD.
Find a Festival
Summer is redolent with festival fever, but no festival matches the cosy vibe of the Fremantle Festival: 10 Nights in Port. The West End of Freo envelops festival goers in a warm hug as they hunker down inside its character-filled pubs and reimagined venues. There's live music, theatre, visual arts, film and performance across 10 curated nights. That's plenty to lure people out of their homes and into the embrace of this creative community.
Go skating
The igloo village is the hero of the Winter Village in Perth from June until September; cosy up in one of 20 private igloos, decked out with comfy armchairs, soft cushions and twinkling fairy lights. Choose from two delicious package options which will be delivered to your igloo door! It's a festive scene featuring marquees, blow-up playgrounds and, of course, skating for all. You're not likely to have trouble convincing the kids to come along, but should you need more ammunition, promise unicorns. Sightings are completely possible.
Head to a whisky bar
Is there anything more warming than a wall of glowing amber bottles? Perth's love affair with whisky manifests in many specialty bars, mostly housed in dimly lit rooms and speakeasy style venues.  Try Helvetica, Bobeche or Varnish on King in the city. For general cosiness and the occasional board game, try Strange Company and Mrs Brown in Fremantle. In Mosman Park, Rodney's Bait and Tackle has an open fire and a salty seadog vibe, with live music most nights.
Visit Fremantle Markets
The Fremantle Markets is an all-weather option for shopping, eating and people-watching – all under one roof. You can get everything here, from a fidget spinner to locally made crafts, sweets, clothing, shoes, doughnuts, crepes, bao and fresh produce.
Indulge in a Day Spa
Too much sightseeing? Disappear into a warm room with soft light, and enjoy the luxe feel of a facial, a massage, or even a longer detox program. Ketura, Limon and Endota are a few places that will attend to wintry blues with your choice of salve, from mud mask to hot stone massage.
Visit The Art Gallery of Western Australia
Home to our State Art Collection, The Art Gallery of Western Australia houses historic British, Australian and Aboriginal works, as well as emerging West Australian talent. Catch a touring exhibition, or wander the permanent galleries where Frederic McCubbin, Hans Heysen, Kaapa Tjampitjinpa and Alec Mingelmanganu are on show.
Catch a film 
Head straight for a sneaky blockbuster in luxe gold class seats, or try something less mainstream at an independent cinema. At Luna (Leederville and Fremantle), bypass the choc top and take a warming glass of wine in with you.
Go for Yum Cha
Breakfast is big in Perth, but when the weather doesn't suit the alfresco vibe, head to Northbridge. There's a cluster of yum cha places along William and Francis Streets (Dragon Palace is one of our favourites) where you can warm up on dumplings and pork buns.