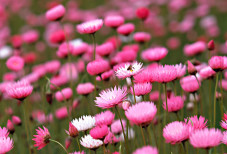 Western Australia has the largest collection of wildflowers in the world – a whopping 12,000 species, 60% of which aren't found anywhere else. They start blooming in the state's north in July to August, and can still be found in the cooler southern areas into October and November. Wildflowers cover a vast amount of terrain, but if you want to see them in or near Perth, here's where to head come August and September.
Kings Park Botanic Gardens
From kangaroo paws to carpets of everlastings, the Botanic Gardens showcase a stunning 3000 species of native plants across 17 hectares of gardens. Navigate your own way with a map from the Information centre, or join a free guided walk. The Kings Park Festival in September is the ideal time to visit.
Serpentine National Park Wildflower Trail
The hills of Serpentine are dotted with Spider Orchids, Greenhoods and Trigger Plants in spring. Ghost Gums and Salmon Gums provide the canopy for species like Sundew and Grevilleas. The Serpentine Falls add to the attraction.
Bold Park Bridle Trail
It's close to the city, but the 7 kilometre horse trail through Bold Park bushland feels like wilderness. There's more than 1,000 native and non-native species of flora, fauna and fungi here. Get lost in it.
Whiteman Park
Whiteman Park's three walking trails are always a good bet for a floral display. Around  400 species of native flowers and declared rare flora dot the landscape. Pop into the information centre before your walk to grab the free interpretive notes. Expect to see Paper Daisies, Orchids, Trigger Plants and Delicate Fungi along the way.
Wadjemup Bidi, Rottnest
Coastal headlands and inland lakes are part of the landscape in which 1,500 species of wildflowers flourish on Rottnest Island. Wadjemup Bidi's 45 kilometres of walking trail is split into five sections, each traversing a different part of the island. Exposure to salt and wind has left flora that's well adapted to nutrient poor soils and coastal life. You'll find unique species like Prickle Lily, Feather Speargrass and the Summer Scented Wattle – as beautiful as their names suggest.
Avon Valley
An hour north from Perth, the Avon valley National Park is best known for its white water rapids, so it's famous for the Avon descent kayak race. During Spring though, the Bilya walking trail is where it's at. It runs 7.2 kilometres alongside trickling streams, from Duigee Park to Nardie Cemetery. The habitats are diverse and so are the wildflowers – from Orange Immortelle, Morning Iris, Pincushion Coneflowers and fields of Everlastings.