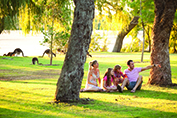 Perth's green spaces are plentiful, beautiful, and relatively free of crowds. From the inner city marvel that is Kings Park to outlying patches of wilderness, we've compiled a list of places to get your nature fix.
Kings Park
High on the must-visit list, Kings Park is the complete package. Right in the city, its huge 400 hectare expanse has river views, manicured gardens, vast grassy stretches and bush wilderness trails. There are lakes, streams and treetop walks, so there's no shortage of spots to explore or just sit and picnic. Botanical enthusiasts can get amongst the 3000 species, and consider both Aboriginal and European influences within the park. Free daily guided walks are a good way to get your bearings. As well as eating options, the park is home to Aspects gallery and gift shop, full of creations by local artists.
Burswood Park 
Another lush patch close to the city, Burswood Park reclines across the Burswood Peninsula near Crown Perth. Plenty of green spaces, barbecues and points of interest make it a pleasant nature escape. Trails for cyclists and joggers meander along the river. Hook up with the heritage trail and check out the series of bronze sculptures commemorating some of the state's historical figures. Public art dots the park, so there's plenty to look at – in case languid watery views aren't enough.
Araluen Botanic Park 
This 59 hectares of natural bush includes 14 hectares of manicured gardens. Featuring both exotic and native plants, Araluen is one of the most visited spots in the Perth Hills, especially during tulip season in August. Tea roses and camellias are among the celebrated plants in the park, a floral contrast to its blackbutt, marri and other eucalypts. It's a bird watcher's paradise, or you can just walk, picnic or relax at the Chalet Healy Cafe. Araluen is in Roleystone, about 35 kilometres from Perth CBD.
Whiteman Park
True to its reputation as the world's biggest metropolitan park, Whiteman Park  crams a lot in to its massive 4000 hectares. It's got parks within parks, with a conservation focus on wildlife, bushland and woodland. Great for families, the park's natural spaces, walk trails and barbecue areas are complemented by plenty of activities, including vintage transport museums, tram and train rides, a print shop, a lolly shop and an art gallery. Whiteman Park is a 25 minute drive north of Perth's CBD.
Yanchep National Park
Up for a drive? Yanchep is 42 kilometres north, and comes with that out-of-the-city vibe. Set amongst coastal woodland, it has historic lakeside buildings and more than 400 caves to explore. There are nine walking trails to suit a variety of fitness levels. Each is designed to showcase a different facet of the park's biodiversity. A koala boardwalk offers an opportunity to get up close to one of Australia's most iconic native animals. Kangaroo sightings are also likely within the park, and there's even a 9-hole bush golf course. Want to know more about the indigenous history? Book in for an experience.
John Forrest National Park
The largely undeveloped John Forrest National Park offers great hiking trails through flooded gums, swamp peppermints and paperbarks, and towering jarrah and marri trees. There are some cultivated native gardens, showcasing the native species in Perth's first gazetted national park. A 30-minute drive east of Perth, it's a popular day tripper's destination, with scenic lookouts, waterfalls, wildlife-spotting opportunities and good picnic facilities.
Serpentine National Park
Birdlife, kangaroos, waterfalls: if these are on your hit list, set your GPS for Serpentine National Park. Roughly an hour south of Perth, it's a popular day trip and most famous for its falls. Because of their popularity, the park sets a maximum capacity so it's best to get there early. There are hiking trails and picnic facilities (expect to be joined by kangaroos), as well as the chance to be in the kind of environment in which the local Noongar people fished for tortoises and lizards.  The best time to see the abundant wildflowers is September.