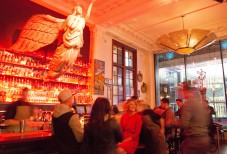 The trend towards sophisticated night spots with great drinks lists has seen an explosion of wine bars across Perth. Yes, they do wine – local, international, natural and organic – but many also do great cocktails and wonderful food. The best ones have tuned-in staff who can guide you where you palate didn't even know it wanted to go. Here's a few of our favourites.
Shadow Wine Bar, Perth CBD
You can see the old world European dining inspiration here, but there's also a  contemporary edge to the moodily lit room. Impressive stemware heralds the option to drink wine by the bottle, carafe or glass, and the mod-Oz food menu reflects the mix of European and Australian wines on the list.
Petition Wine Bar, Perth CBD
Wine producers from around the globe are celebrated at this atmospheric spot in the Old Treasury Buildings, so the wine list is an adventure. The focus is on organic and biodynamic wine making, and the list is  thoughtfully curated. It'll appeal to people keen to make new discoveries, as well as those who simply want the best match for their meal. Knowledgeable staff are there to help.
Lala Rookh, Perth CBD
This drinks-friendly restaurant has a courtyard area with space to gather for tipples, but there's more. An intimate enoteca off the main dining room seats just 27 people, and you're surrounded by an impressive suite of 300-odd wines. Buy something at retail price to take away (an interesting drop for the cellar, perhaps?). Alternatively, stay for lunch or dinner served by the main restaurant.
Mummucc, Wembley
An Italian-Australian ethos drips from both wine list and menu here, but think small scale producers rather than anything from a liquor store giant. There's also a strong focus on low intervention and natural wines, for the pet-nat enthusiasts. The seating is intimate in the 60-seater, and although you can get pizza delivered from nearby Monsterella (same owners), do sample the compact menu of Italian-inspired dishes.
King Somm, Bayswater
Very much a neighbourhood bar, King Somm has also become a firm favourite with people from further afield. It's the clever mix of relaxed vibe, bottle shop and wonderful pizzas, and a reliably good list of boutique drinks. 'What the sommeliers drink at home' is their brief, so you know you'll be drinking something off the beaten track. Plus, the bar staff may well learn your name.
Whisper Wine Bar, Fremantle
Authentically French, even down to its cobbled limestone surrounds, this is an intimate space where wine is the number one tipple. Wines from Denmark to South Africa and, of course, France, feature on the simple but satisfying list. Food is pared back to cheese and charcuterie platters, with the occasional fondue in the mix. Sit al fresco, or upstairs in the cosy nook.
Madalenas, South Fremantle
You can walk here from Fremantle's local Beach, but the soul of this vibey wine bar is in Brazil, Portugal or Spain. It's modelled on the neighbourhood boteco bars in such far-flung places, and both food and drinks incorporate that feel. Wine is largely new wave and organic, and there's a daily changing by-the-glass menu ideal for perfectly matching the moment, whether it's straight from the beach or out for the evening.