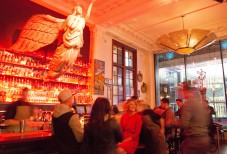 The trend towards sophisticated night spots with great drinks lists has seen an explosion of wine bars across Perth. Yes, they do wine – local, international, natural and organic – but many also do great cocktails and wonderful food. The best ones have tuned-in staff who can guide you where you palate didn't even know it wanted to go. Here's a few of our favourites.
Shadow Wine Bar, Perth CBD
You can see the old world European dining inspiration here, but there's also a  contemporary edge to the moodily lit room. Impressive stemware heralds the option to drink wine by the bottle, carafe or glass, and the mod-Oz food menu reflects the mix of European and Australian wines on the list.
http://www.shadowwinebar.com.au/
Petition Wine Bar, Perth CBD
Wine producers from around the globe are celebrated at this atmospheric spot in the Old Treasury Buildings, so the wine list is an adventure. The focus is on organic and biodynamic wine making, and the list is  thoughtfully curated. It'll appeal to people keen to make new discoveries, as well as those who simply want the best match for their meal. Knowledgeable staff are there to help.
https://petitionperth.com/wine/
Lala Rookh, Perth CBD
This drinks-friendly restaurant has a courtyard area with space to gather for tipples, but there's more. An intimate enoteca off the main dining room seats just 27 people, and you're surrounded by an impressive suite of 300-odd wines. Buy something at retail price to take away (an interesting drop for the cellar, perhaps?). Alternatively, stay for lunch or dinner served by the main restaurant.
https://www.lallarookh.com.au/
Mummucc, Wembley
An Italian-Australian ethos drips from both wine list and menu here, but think small scale producers rather than anything from a liquor store giant. There's also a strong focus on low intervention and natural wines, for the pet-nat enthusiasts. The seating is intimate in the 60-seater, and although you can get pizza delivered from nearby Monsterella (same owners), do sample the compact menu of Italian-inspired dishes.
King Somm, Bayswater
Very much a neighbourhood bar, King Somm has also become a firm favourite with people from further afield. It's the clever mix of relaxed vibe, bottle shop and wonderful pizzas, and a reliably good list of boutique drinks. 'What the sommeliers drink at home' is their brief, so you know you'll be drinking something off the beaten track. Plus, the bar staff may well learn your name.
Whisper Wine Bar, Fremantle
Authentically French, even down to its cobbled limestone surrounds, this is an intimate space where wine is the number one tipple. Wines from Denmark to South Africa and, of course, France, feature on the simple but satisfying list. Food is pared back to cheese and charcuterie platters, with the occasional fondue in the mix. Sit al fresco, or upstairs in the cosy nook.
http://www.whisperwinebar.com.au/
Madalenas, South Fremantle
You can walk here from Fremantle's local Beach, but the soul of this vibey wine bar is in Brazil, Portugal or Spain. It's modelled on the neighbourhood boteco bars in such far-flung places, and both food and drinks incorporate that feel. Wine is largely new wave and organic, and there's a daily changing by-the-glass menu ideal for perfectly matching the moment, whether it's straight from the beach or out for the evening.
https://www.madalenasbar.com.au/
Varnish on King, Perth
The impressive whiskey wall tells you much about this low-lit den in Perth's West End. But does it say 'bacon'? Varnish has other excellent share plates but it's well known for its Bacon Flight, which pairs four different styles of whiskey with four different styles of bacon. And on the first Monday of the month, a Whiskey 101 Masterclass helps refine whiskey knowledge.
Halford Bar, Perth
Nostalgic for 50s-style cocktail bar elegance? Here's your spot. Halford specialises in old style drinking panache: smooth cocktails, whisk(e)y both ways (Scottish and US palates are catered for) and plush seating nooks that conjure a timeless opulence. It's housed in the renovated basement of the historic Titles building near the City of Perth library.
https://www.halfordbar.com.au/
Heritage Wine Bar, Perth
Harlequin floors and sandstone evoke the historic bones of this St George's Terrace establishment, but it's a very contemporary offering here. There's more than 100 old and new world wines on the well curated list, and you can sample most of them by the glass, with share plates rounding out the experience. Really like something? You can get a bottle to go.
https://www.theheritageperth.com.au/
Strange Company, Fremantle
A masterful balance of sophistication and relaxed vibe, Strange Company is a go-to for very now cocktails, wines by the glass or carafe, and yummy share plates. Perch on stools at high tables or recline on banquettes near the bamboo that thrives under slits of skylight. Find it off the strip on Nairn Street.
https://strangecompany.com.au/
Wines of While, Perth
Here's where to head if you have an interest in natural and organic wines. This low key neighbourhood bar has found its niche, offering pet-nat and other interesting wines from all over the world. Humble food offerings round out the picture. It's in William Street, but consult the map if you're thinking of hopping there from Northbridge – it's a small hike, and seating is limited to 50.
Si Paradiso, Highgate
Evoking vintage Italian fun and decadence in equal measure, this place has you covered if you're up for drinks, music, dancing and pizza. There are multiple spaces catering to cocktails, music, eats and events, and decorative touches like terrazzo floors and lush outdoor plants bring the party vibe front and centre. Very happening.
Tiny's, Perth
Serious about wine? It's highly improbable you won't find something to be impressed by at this city bar. It boasts more than 300 international and local fine wines, as well as food bites. Not so much your cosy bolt hole as a thrumming post-work and weekend destination, it tends towards rowdy when the DJ fires up.
Ronnie Nights, Fremantle
Brother to Strange Company, Ronnie Nights has a more ironic retro feel, with the bar staff in checked shirts and the food bites unpretentious. Plenty of craft beers are on tap, along with your usual bar offerings. There's an upstairs living room, if the lounge chairs downstairs don't nab you first.
Hula Bula Bar
There's nothing understated about this, one of Perth's longest standing bars. Colourful exoticism reigns supreme – a tropical holiday vibe infuses the island-style décor – and showy cocktails flag the extravagant, retro-fun vibe. Dancing is encouraged; grass skirts optional.
http://www.hulabulabar.com/home/