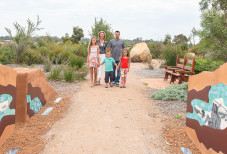 Perth's beaches are justifiably famous, but its nature trails are gorgeous too, especially in the cooler weather. You don't have to go far from the city to enjoy a walk in the bush, be it a half hour or half a day.
Bushland Nature Trail, Kings Park
Looking for a quick and accessible commune with nature? Try the Bushland Nature Trail in Kings Park, a 25 minute loop walk brimming with flowers and birdlife. Enter near the Botanic Garden carpark off Forrest Drive. If you feel like going further, hook up with the 2.5k Law Walk Loop or the a 90 minute Boodja Gnaring Walk, whose interpretive signage gives some insight into the Nyoongar people native to the area.
Matilda Bay Reserve, Nedlands 
Perth's river really is pretty, and nowhere more than in genteel Nedlands. Its wide grassed areas, little sandy beaches and bobbing boats bringing to mind a gentler time. There are riverfront walk paths and cycle ways everywhere, but you might start at the famous blue UWA boat shed and jetty. Make sure to check out the Eliza sculpture perched in the water nearby, because local wags dress her in something different almost daily. It's an easy hour's amble around to Pelican Point, with a possible coffee stop at the Bayside Kitchen or a waterfront lunch at JoJo's.
Reabold Hill Summit, Floreat
Want a view? As the highest natural point on the swan coastal plane, Bold Park takes in the sweep of both Indian Ocean and Darling Scarp, with glimpses of the Swan River. Look a bit closer to the trail for the wildlife, including geckos, brush tail possums, bandicoots, bats and around 80 species of birds. The short Reabold Hill Summit walk is a teaser, but there are over 15 kilometres of other walking trails to explore in this park close to the city. Find a map detailing all your options here.
Bells Rapid Walk Trail, Swan Valley
This 2.5km circuit trail affords views of the of Bells Rapids, particularly spectacular in the winter when the water gushes across granite boulders. It's a popular vantage point for the annual Avon Descent kayaking event on the Swan River. Among the wandoo, flooded gums and spring wildflowers you might spot a grey kangaroo or a little pied cormorant.
Railway Reserves Heritage Trail, Perth Hills
About an hour's drive from the CBD, this is a popular destination for bush walkers. Picturesque and arty, it makes a great half day or day trip. The Heritage Trail is a 41 kilometre loop, but you can enter at various places, including any of the towns en route (Mundaring,  Darlington and Parkerville). Attractions include the old railway line and tunnel in John Forrest National Park, waterfalls, city views, the Goldfields pipeline and the Mundaring Sculpture Park. Character-filled pubs and tea rooms make friendly rest points.
Wadjemup Bidi Walk Trail
If you're not on a push bike, exploring by foot is a great way to see Rottnest Island. The Wadjemup Bidi is a series of walk trails taking in the island's main points of interest – both natural and man-made. There's 45km of trails, but you're on holiday; maybe tackle just a few. Opt to see the Bickley Battery area, the Salt Lakes or Salmon Bay, or take the trek out to the remote West End. It's a wildlife haven out there; see fur seals, dolphins and whales in season. A boardwalk connects with the Cathedral Rocks Seal Viewing Platform. The newest section of trails navigates through the island's Northern beaches, a mix of surf beaches and calm swimming lagoons buffered by the reef.