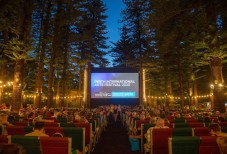 Perth's long, balmy summer has many benefits, not least of which is the chance to watch movies under the stars. Outdoor cinemas are all over the city, from high rise roof tops to pine-flanked auditoriums. Some operate between October and April, so the outdoor movie experience is – remarkably – on offer for half of the year.
CITY
Rooftop Movies, Perth CBD 
Bright bean bag chairs, fairy lights and other quirky props adorn the rooftop of an undercover carpark, six storeys above the CBD. Between October to April, a daily changing program of films unfolds, complete with glittering city views.
Moonlight Cinema, Kings Park
Here's a novel way to see Kings Park by night. Between December and March, the Kings Park Botanic Gardens becomes a cinema after dark, screening both classic and new release films. You can bring a cushion, rug or low chair, or hire a comfy bean bed.  Caterers are on site, or BYO snacks and drinks.
WESTERN SUBURBS
Somerville Auditorium, Nedlands
The original venue for Perth Festival films, the Somerville is arguably Perth's most picturesque outdoor cinema. Surrounded by giant pines and flanked by picnic-worthy grassed areas, it's a buzzing night time venue between December and April. Think 'festival' for the program, because this is the place to see unusual and foreign films that aren't at the mainstream cinemas. Deckchairs are permanent, but bring a cushion or a rug for a picnic before the film. Food is available, and you can BYO wine.
Camelot, Mosman Park
This intimate, limestone-walled outdoor cinema flanks the art deco Mosman Hall. There's bean bed and deckchair seating on the grass, or cabaret style seating on the balcony above the screen. Wood fired pizzas are on the menu, plus a bar, so you don't need to cater. The films are mostly new release and change nightly, but are often repeated through the season from December to March, so if you miss a blockbuster there's a chance to catch it again.
NORTHERN SUBURBS
Luna Outdoor Cinema, Leederville
There's an indoor version, too, but this independent cinema in Leederville has a spot at the rear for the outdoor experience. Operating between December and March, it shows an eclectic range of arthouse, contemporary and classic cinema. Bean bags and chairs make up the seating mix, and you can buy alcohol and food on site.
Galaxy Drive In Theatre, Kingsley
Perth's last remaining drive in theatre is a year-round affair. Screening new release films in Perth's northern suburbs, it has the added bonus of a nostalgia hit as you watch films and munch popcorn from your car, like it's 1978. Tuesday nights offer the best deal at $20 per car.