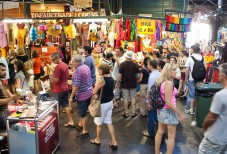 Markets are having their day. As people yearn for more connection with the makers of their goods, markets have become a genuine shopping alternative for produce and other wares. Mostly cranking up on weekends, markets are an ideal way for visitors to get a sense of a place and its people. Even if you're not shopping for fresh produce, go for a coffee, a locally crafted gift and some people watching.
Fremantle Markets
This permanent indoor market is one of Fremantle's big attractions. Open Thursday to Sunday, there's not much you can't get here. Speciality food stalls sell everything from nuts to doughnuts, liquorice to crepes. You can also buy shoes, jewellery, clothing, gifts, crafts and knick knacks, much of it locally produced. The vast food market is colourful and lively, especially come the end of the weekend when vendors spruik reduced prices. Bread, cheese, wholefoods, meats and cakes are part of the mix, all in a historic building. Grab a shoulder massage if it all gets too much.
Kalamunda Farmers Market
Heading to the Perth Hills on a Sunday comes with this bonus. The Kalamunda Farmers Market is a place to pick up fresh food, a tasty snack, and gourmet treats like oils, marinades, jerky and gluten-free cakes. Artisan wares are also well represented in this arty part of Perth, so make it a stop on your Hills visit.
Subiaco Farmers Market
Saturday mornings see one of Perth's longest running farmers markets, where sustainability is the focus and all profits go to the primary school on whose grounds it takes place. As well as great breakfasts and organic produce, you can pick up anything from wild tapenade to healing hand creams. Live music adds to the atmosphere.
Growers Green Farmers Market
On Sunday mornings, South Fremantle College in Beaconsfield is a popular haunt for locals. They gather here en masse for a multi-cultural breakfast and fair trade coffee, filling canvas bags with fresh produce, flowers, fish and eggs. Rugs and chairs adorn the lawns, the better to listen to the buskers while watching the Sunday ritual unfold. The first Sunday of each month sees Big Market day when crafts, vintage clothing, books, jewellery and other fare joins the fray.
Perth City Farm Farmers Market
A charming green space in Perth city plays host to this vibrant Saturday morning market. Things are grown here and sold in the nursery, but the market is also a place for organic and biodynamic producers to sell their wares. As well as fresh produce, you can pick up organic skin care, soaps, health foods and clothing, and get a feed in the City Farm cafe.
Scarborough Sunset Markets
No early rising required for this one. Between 3 and 8pm on Saturdays, Scarborough Square comes alive with this vibrant market by the sea. It's less about fresh produce, more about comfort eats, gourmet treats and artisan gear, from vintage clothes to candles, jewellery and homewares. Live music is part of the scene.