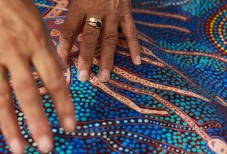 Aboriginal culture is one of the oldest on earth, dating back an estimated 40,000 years. The local Whadjuk Nyoongar culture is rich in oral story telling tradition, so there's no better way to experience it than on a tour with a local custodian.
Djurandi Dreaming
Choose river or lake –  Djurandi Dreaming showcases the local indigenous culture right where its heart is. Artwork is part of the experience here, or you can take a tour at Elizabeth Quay or Rockingham. There's even a torchlight tour at a freshwater lake south of Perth, where shallow waters are home to ancient thrombocytes.
Nyungar Tours
Local woman Kerry-Ann Winmar leads tours in South Perth and at Kings Park. Walking through sites of cultural significance, you can hear the traditional stories of the area before it was developed. Get a hands-on experience with a guided look at bush tucker, traditional medicines and Aboriginal artefacts.
Go Cultural Tours
At one of Perth's newest developments, experience its oldest stories. At Elizabeth Quay on the Swan River, Nyungar guide Walter tells ancient Dreaming stories, giving insight into early inhabitants' spiritual beliefs and customs. Learn about the lifestyle of the Whadjuk people who resided near this river, the animals of significance and the traditions still being passed down through generations.
Japingka Aboriginal Art
Fremantle's Japingka Aboriginal Art is a specialist gallery with stock rooms and galleries full of art from across the country. The gallery inhabits two levels of a heritage warehouse in Fremantle's West End. New exhibitions are staged throughout the year, along with a constant stock of art from various regions in Australia. With around 4500 artworks to choose from, it's best to get a fortifying coffee before you begin.