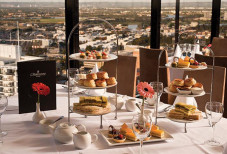 Nothing says 'indulgent moment on holiday' like High Tea. A leisurely afternoon feast on delicate petit fours, with or without a glass of bubbles in hand, can be a real memory-maker. Here's some places in Perth to set your sights.
Treasury Lounge and Bar, Perth CBD
Perth's renovated Treasury Buildings are a must-visit in Perth city for food and wine. If you can't squeeze in dinner or a wine bar encounter, high tea is the perfect alternative. Seasonal fruits and vegetables always feature in the menu that changes with the seasons. You can plump for a straight afternoon tea, or add local wine or French fizz for extra decadence.
C Restaurant, Perth CBD
If you're going to indulge at Western Australia's only revolving venue, high tea is a good moment to do it. From the 33rd floor of St. Martins Tower, the views are endless – and constantly changing. Your glass of fizz can be bottomless, too, if you choose that option. In any case, there's a good selection of teas to go with the delicate sandwiches, cakes, scones and petit fours. There's even a kids menu.
Peninsula Tea Gardens, Maylands
Riverside in Maylands, this is a picturesque spot to enjoy high tea seven days a week. Set on Peninsula Farm, you're surrounded by trees, lawns and river frontage as you indulge in loose leaf tea and petit fours in the fresh air. The menu has the usual suspects with a French twist, presented on a tiered plate and served with fine china and silverware. The cost is kept manageable with the option to BYO bubbles. Corkage is free.
Esplanade Hotel, Fremantle
High Tea is a weekend only affair at the Harbour Master in the Esplanade, but it's one of Perth's best value high teas. Expect ribbon sandwiches, fresh scones and a selection of cakes and tarts on the menu. The choice ranges from classic to luxe, which comes down to the extravagance of your chosen tipple. There's no view here but the space is intimate, and you're right on Freo's doorstep.
Rochelle Adonis, Highgate
This indulgent haunt specialises in beautiful house-made cakes and pastries, so high tea here is a no brainer. Think decorative fine porcelain, elegant flutes of bubbles and shining silverware as a backdrop to the decadent bites of food. Classic cucumber sandwiches are on the menu along with the exquisite cakes and confections for which the establishment is known. Expect a European edge and a strong nod to seasonal produce.
Bistro Guillaume, Crown Perth
A distinctly French sensibility permeates everything at Bistro Guillaume, not least the Saturday afternoon high tea. Tea options are almost as varied as the canapes, which span the sweet and savoury spectrum. Expect delicate, flavoursome morsels, and opt for a glass of Perrier Jouet champagne just because you can.