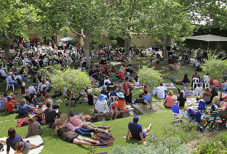 With frequent blue skies and more than its share of sunshine, Perth is a summer playground that can be enjoyed without a hefty price tag. Here's a list of ways to enjoy Perth in summer without breaking the bank.
Sunset at the Civic Centre Gardens
Beach too crowded? One of Cottesloe's hidden gems – even for the locals – is the Civic Centre Gardens. Like something from a mid-century story book, this grand site has multiple tiers of lawn and garden, shaded by towering pines. It's a great place to watch the sun go down over the Indian Ocean. You can access the Gardens from all sides, with lots of parking available on Napier and Broome Streets. Pack a picnic – you may want to spend some time here.
Sunday music at the Fremantle Arts Centre
Every Sunday between October and March, the shady front lawn at the historic Fremantle Arts Centre is given over to two hours of live music from 2-4pm. The programming varies from pop to jazz to blues, and both local and visiting acts appear. The atmosphere is convivial and relaxed – it's a locals' favourite pastime. Bring snacks if you like, or you can buy woodfired pizza and access the bar.
Spend the Day at the Beach
In case you missed the memo, Perth's beaches are among the world's best. There are several within reach of Perth City, each with their own variation on the white sand and brilliant turquoise story. Cottesloe is justly famous for its swimmable bay and tiered lawns. Want surf? Scarborough and Trigg might be more your style. Floreat and City Beach are the most easily accessible from the city. Further south, the lengthy stretch at Leighton turns on the most stunning water colour. Fremantle's South Beach is one of the calmest.
Tastings in the Swan Valley
Driving out of Perth and into the nearby Swan Valley is like a mini holiday escape. Spaces are open, and speckled with vines and market gardens. The 32-kilometre food and wine trail takes in breweries, wineries, distilleries, arts, crafts and fresh produce. Many offer free tastings, so you can spend a day sampling wine, chocolate, honey, coffee, cheese, nougat and cider while soaking up the scenery.  Pick up a Swan Valley Guide from the Visitor Centre in Guildford.
Perth Cultural Centre 
Take the walkway from Perth train station to reach this cultural hub. The Art Gallery of WA (many of its galleries have free admission) and the State Library are here, along with the green space of the Urban Orchard, and contemporary art at PICA. There's also free wi-fi, so pull up a piece of amphitheatre seating and look up what's on. There's plenty.
Northbridge Piazza
The Northbridge Piazza is a community focal point that comes into its own in the summer months. Free films screen day and night; you can sit in the shade of a market umbrella, on the grass or in a beanbag. A program of events, from music to installation to workshops and meetups, unfolds here. Amble along to see what's happening.
Explore Fremantle by Bike

Cycling is the Freo way, and there's free bike hire (pay a refundable deposit) from the Fremantle Visitors Centre. With North, South and East Fremantle packed with cafes, boutiques and river and ocean scenery, make the most of your mobility and find your way along good bicycle paths to some of Fremantle's best loved areas.
Lunch with a view at Monument Hill 
Pack a picnic and head up to Monument Hill. The lush green space is home to Fremantle's war memorial, but with vast lawns and a bit of elevation, it's also a perfect picnic spot offering panoramic views of Fremantle, the port and the ocean. The 'Freo Doctor' (the sea breeze) will help cool down a warm afternoon.
Visit Kings Park
You can take a free CAT bus from the city to Kings Park, where a world of free spectacle awaits. Wander through manicured gardens or bush tracks, or take the  Lotterywest Federation Walkway. There are gorgeous views everywhere, not least from the State War Memorial (try the whispering wall), and lakeside at the Pioneer Women's Memorial is an excellent spot for a picnic. Free walking tours are also on offer.
Take a city walking tour

Want to orient yourself in Perth city? Learn about the art, culture, history and points of interest? The iCity Information Kiosk in Murray Street Mall is the start point for free orientation walking tours. They're led by volunteer guides and last up to 90 minutes. Self guided tours are also an option.
Twilight Hawkers Market
Friday evenings in summer have a treat. Perth's original and biggest street food market, the Twilight Hawkers Market, packs incredible aroma and atmosphere, not to mention flavour, into one bustling arena. Food from around the globe features in the street stalls, and live music adds to the ambiance. Markets run from October to April, 4.30 – 9.30pm.