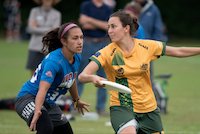 08/01/2018 - 13/01/2018
Hundreds of the world's best ultimate frisbee players will be in Perth in the new year to take part
in the World Under 24 Ultimate Championships. The World Flying Disc Federation's (WFDF) World Under-24 Ultimate Championships is one of the international federation's five world championship tournaments. Every two years, the best college-age ultimate players from around the world square off in three competition divisions: men's, mixed and women's. World Under-24 will use the same venue all week. The University of Western Australia Sports Park in Mount Claremont is the venue for all games. The lush green grass fields are amongst the best Australia has to offer and is located about 10 kilometres west of the Perth Central Business District. Perth, Western Australia is home to the best coast line in the world and they recommend staying on after World Under-24 to see some of their amazing sites and to enjoy the golden sunsets. Make your participation at World Under-24 a holiday experience of a lifetime. The Perth International airport is strategically located in relation to South East Asia, Europe and Africa. For North and South American nations, connections from Sydney International Airport to Perth are daily and frequent.