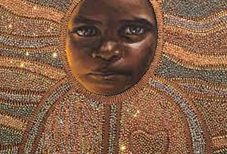 03/02/2018 - 13/08/2018
This free exhibition takes a step back in time to a period (1993–2005) when First Nation Badimaya artist, Julie Dowling, was emerging as one of the most important artists in Western Australia and the country.
In this period, the real-life stories she shared about First Nations peoples' experience in this country were abrupt, brutal and challenging. Many of the stories she shared were, and still are, largely unknown or acknowledged in mainstream Australian society. Individual and group portraits of the artist, her family and friends paintings, drawn from the State Art Collection, make up the thirty-nine paintings on display.