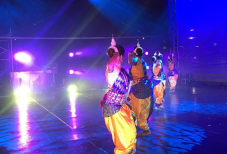 28/10/2016 - 30/10/2016
The Swan Festival of Lights 2016 – Celebrating Deepavali Together is set to take Perth once again on a
multicultural journey of the senses, adorning the foreshore with a vivid experience of colours, rhythms and
flavours. The Swan Festival of Lights 2016, hosted by the Saraswati Mahavidhyalaya (SMV) and Annalakshmi Cultural Centre, is supported by the City of Perth, Government of Western Australia – Office of Multicultural Interests, Metropolitan Redevelopment Authority, Healthway promoting the LiveLighter message and Synergy, and
assisted in kind by Malindo Air and Jogia Diamonds. The festival is a free entrance, family friendly (smoke and alcohol free) event that will be held over 3 days at Perth's newly opened iconic Elizabeth Quay, from Friday 28 October 2016 to Sunday 30 October 2016. Since its inception in 2008, the Swan Festival of Lights has flourished, attracting over 25,000 patrons each year to celebrate the vivacious and enriching Indian festival of Deepavali (Diwali). A joyous occasion observed by over a billion Indians across the world, Deepavali is a celebration of the Inner Light that resides in all of us. This universal theme of 'Light', hope, peace, harmony, knowledge, joy and truth triumphing 'darkness' serves as the foundation of the Festival and inspires a unifying experience.