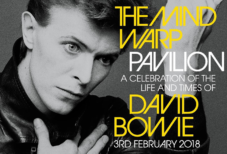 03/02/2018
Following on from the phenomenally successful inaugural Mind Warp Pavilion in 2017, two years on from the icon's untimely demise, join us to again celebrate the memory of David Bowie and his unrivalled contribution to six decades of music.
Over 40 West Australian musos will gather to pay homage to this towering talent, many of whom we loved in MWP1 along with some new faces with their own special Bowie interpretations. The three live music sets will be interspersed with DJ, Claude Mono spinning a combo of Bowie tunes, his collaborations and covers plus more than a few surprises to add into the mix, to be announced.
Keep the Starman's memory alive: don't miss this spectacular David Bowie commemorative event!