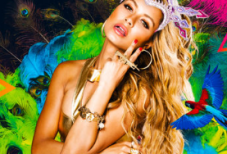 19/11/2016
The Biggest Carnivale in the world comes to Perth with the biggest act The Court has ever seen!
Join us for all the excitement and colour of Rio Carnivale as we welcome to The Court for the first time Australia's biggest DJ superstar – Havana Brown!
She has toured the world from Tokyo to Paris to Miami and everywhere in between. She's supported the likes of Britney, Gaga and Rihanna, has a million Facebook followers and her own billboard in Times Square and her quadruple platinum hit "We Run The Night (feat. Pitbull)" sold over 2.5million copies globally. Now she's out of the jungle and ready to thump our main stage with all the hits you love in a DJ and live vocal performance. Joining Havana on our main stage is Award Winning DJ Superstar Alex Taylor. He's played for Madonna and all across the globe, he's supported the likes of Miguel Migs, Armand Van Helden, and Roger Sanchez, his home base of Sydney has seen him headline Sydney Mardi Gras and he can boast ten commercially released mix CDs to his name, for labels such as Pacha, Ministry Of Sound, Sony, Vinyl Pusher and more. Fresh from her US tour and headlining the 2015 Mardi Gras Harbour Party, DJ Du Jour joins us for one night only. She shot to stardom after winning the 2011 Sydney Mardi Gras DJ Competition and has been one of the most in demand Australian DJs ever since. The carnivale continues in the Overflow with all new games and rides including the naughtiest Bouncy Castle you've ever seen, a Wild Surfboard to ride and hoops and guns to shoot! If you want to get dark and dirty head inside to our black-out zone or party silently in the beer garden with silent disco all night long.