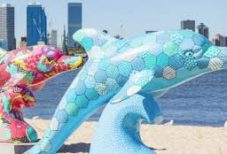 30/01/2018 - 14/03/2018
A pod of wildly colourful dolphin sculptures painted by local artists are swimming into Perth to raise awareness of child and adolescent mental health.
The dolphin was chosen as The Big Splash WA campaign totem because of the many similar traits between humans and dolphins. Like us, dolphins thrive in groups. Like us, dolphins have distance personalities, protect their young and most vulnerable, display distress in isolation, and need to come up for air and blow off steam from time to time.
The Big Splash WA Art Trail is a free event that encourages individuals and families relax and take some time out of their busy schedules to discover each of the 36 beautiful dolphin sculptures dotted throughout Perth.