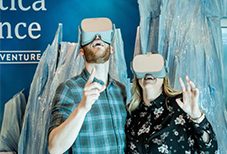 01/09/2018 - 14/10/2018
Few are fortunate enough to travel to Antarctica. Even fewer experience what it is like to live there. That's all about to change. A unique opportunity to explore a day in the life of Antarctic scientists as they research this mysterious continent and the effects of climate change. This is the first documentary of its kind, filmed in Antarctica in 2018 in spectacular 360-degrees with 4K, high-resolution images.
You will see first-hand the work that goes into understanding climate change, managing eco-systems, researching sustainability and conserving wildlife. Along the way you will: Explore Antarctica from a helicopter cockpit, even landing on glaciers. Jump in a zodiac to discover the resident penguin colony and see the new chicks. Explore Davis Station and logistics that go into surviving the harsh Antarctic conditions.
View the spectacular Southern Lights in high definition. With 360-degree camera control and stunning high quality vision, we welcome you to your immersive Antarctic Experience. This world premiere VR adventure will launch exclusively at the WA Maritime Museum this September. Sessions start at 11am, 12pm, 1pm, and 2pm. Each session runs for 30 minutes.