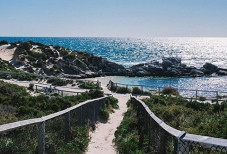 03/12/2016
Swim Thru Rottnest. Conducted in the crystal clear protected waters of Rottnest Island which is situated approx. 20kms off the coast of Perth, Western Australia. This year sees the introduction of an additional swim of 500 metres
1600 metres – starts 1.10pm
500 metres – starts 1.00pm
This event was first conducted in 1977 and has been held annually ever since.It is always held on the first Saturday of December and is hugely popular.