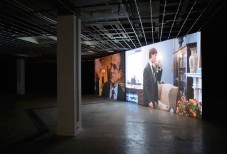 03/09/2016 - 02/10/2016
Success is a new platform for contemporary art. It transforms the abandoned
basement of a department store into a multi-gallery exhibition venue. Based in
the historic city of Fremantle, Western Australia, the gallery presents cutting-edge
visual art and performance from international and Australian artists.
Success 4. The 2016 Success programme continues with five simultaneous exhibitions across 2,800
square metres of gallery space:
In Gallery One, PASSING / PARADES explores modalities of queer visibility in the
work of contemporary visual artists from across the country. We're here, we're
queer, and we'd like to say hello.
In Gallery Two, Success presents A glossary of sorts, an abbreviated retrospective
of works in the innovative and intellectually driven practice of Sydney-based
contemporary artist Benjamin Forster.
Gallery Three features Inanition, a curated exhibition of video and sculptural art
imagining the end of times. Art and Sci-Fi combine in the speculative visions of
prominent international and Western Australian artists.
In Gallery Four, the Success Sounds series of performance continues with a night
of live music featuring germ_lock, Gerygone, Feels, and Stina.
Also appearing is Breathing Status, an exhibition exploring intimate and
precarious relationships with personal technology and homewares by Tully Arnot
and Bronte Jones.
The exhibitions will continue 3 September – 2 October 2016, Fri – Sun, 10am – 5pm.