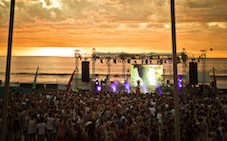 11/12/2016
Sets on the Beach is a series of boutique beach parties which only happen a few times a year, at an amazing beachside location that is truly world class. Add to this; great music, sun lounges, deck chairs, countless inflatables, an extensive drink and cocktail list and you have the perfect way to spend a summer afternoon.
We carefully select the live bands and DJ's to fit the beachside vibe, with an emphasis on quality!
High standard production values ensure things sound and look sh*t hot, plus we add a few other quirky bits n pieces to give the space a unique party atmosphere. We could crap on a bit more, add quotes from previous Acts etc but that just doesn't do it justice…So, come party with us in a little slice of paradise, and see it for yourself!!