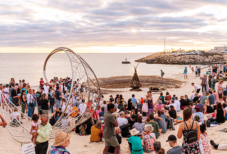 19/02/2022 - 07/03/2022
Having held four successful free to the public exhibitions in 2013, 2015, 2017 and 2020, Sculpture at Bathers ([email protected]) returns in 2022 to enliven Perth's cultural landscape. Sculpture at Bathers has shown the work of over 200 Western Australian artists and grown from an audience of 20 000 visitors in 2013 to 60 000 in 2020.
Set in the historic Bathers Beach Art Precinct, Fremantle, the location and intimacy of [email protected] are unparalleled, offering audiences an unforgettable cultural experience and showcasing the unique, historic atmosphere of Fremantle's West End. For 2022 Sculpture at Bathers is pleased to partner with local organisations including the City of Fremantle, Fremantle Ports, the Town of East Fremantle, Fremantle Fishing Boat Harbour Trader's Association, City of Melville, Artsource and the Western Australian Museum to reach a wider audience and deliver [email protected]. This event marks an expansion for Sculpture at Bathers: installation of the sculptures by 72 WA artists will spread along Bathers Beach, inside the gallery at Kidogo Arthouse and the outside forecourt at WA Shipwrecks Museum. In a new initiative, five works by local artists will be displayed at Fremantle Ports.