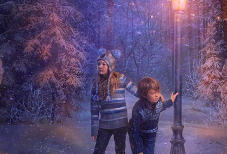 26/11/2016 - 24/12/2016
An Immersive Christmas Theatre Experience! Begin with a game of hide & seek; Come enter the enchanted wardrobe and discover Narnia, the Faun and the Enchanted Forest. Interact with our spellbinding characters in small groups and witness the giant magic mushrooms where the fairies play. Journey to the North Pole, help the elves make toys for all the children and spend quality time with a quality Santa in his workshop. Immersive, Authentic and Original
Watch your children be delighted as they intimately interact with the cast of familiar and new Christmas characters in small groups with lots of individual attention for your child. Set against the backdrop of the historical Fremantle Port; where many WA families started their journey…we bring you on a trip that will bring out all the best of Christmas for your children and family.
We invite you to bring your children and family and be part of a unique immersive story this Christmas! All in a unique and family friendly space.