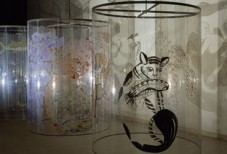 07/05/2016 - 22/08/2016
This display features three major installations exploring themes of freedom, belief and the political power of the imagination, by three of the world's most innovative and engaging artists. Each work is a bold, immediately captivating aesthetic statement that also delivers considerable intricacy and nuance.
Conceptually united under the banner Sacred and Profane the installations critically and poetically engage with, challenge and break away from, tradition and established conventions. In different, but equally compelling ways, Kallat, Malani and Yang rethink certainties of history and belief in order to open up new understandings of the past and new possibilities for the future. Jitish Kallat's Public Notice 2 2007, recreates Gandhi's speech of 1930, given before setting off on a march that would end in his deliberate breaking of British law by making salt. Kallat's translation of the famous speech into the form of a sculptural installation brings Gandhi's words back to life; more than 86 years later they are present, before us, yet, they are also transformed as the letters appear in the guise of small bones. Each is a skeleton of a letter, a word that once had flesh that moved and lived. Now locked in eternal stillness, it is apparent that it is up to us to bring the letters and words to life.