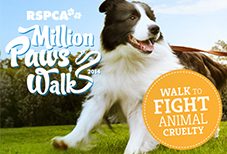 20/05/2018
Our flagship Million Paws Walk event will be held at Sir James Mitchell Park, South Perth. An amazing 10,000 participants and their dogs will walk one kilometre, 2.5 kilometres or five kilometres.
The walk will be held on Sunday 20 May at 8:30 a.m. and will be brimming with activities, food, pet parade, furry friends and more!
Funds raised through registrations, merchandise sales and online fundraising will go towards RSPCA programs, adoption, veterinary services, campaigns and our Inspectorate. So register now and set up your fundraising page to support all creatures great and small!