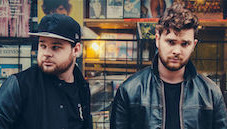 13/05/2018
All hail the Royals! After their impressive performance at this year's Splendour In The Grass, British two-piece Royal Blood have very well proven themselves to be an exciting live act. Now, Mike Kerr and Ben Thatcher are gearing up to play their biggest Australian shows to date, returning in April next year for a four-date tour in celebration of their sophomore studio album 'How Did We Get So Dark?'. The pair will be performing in Sydney, Melbourne and for the first time, Brisbane and Perth. They said that they are excited to come back in Australia to do bigger shows and play venues they've never played before.
Since forming in 2013, Royal Blood have indeed gone a long way—from just playing open-mic nights in pubs and small clubs to being recording artists touring the world. Their eponymous debut album, released in 2014, became the fastest selling rock debut album in the UK in three years whilst their recent release topped the UK Albums Chart. Royal Blood will first be winding up a series of shows—including North American dates, a performance slot at the Summersonic Festival in Japan this August and a mammoth European tour in November—before touching Down Under next year.
Presented by Frontier Touring.