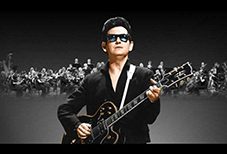 11/05/2018
Perth Arena will play host to Roy Orbison for the first time since his 1972 tour in Australia's first-ever hologram concert tour!
Through extraordinary theatrical stagecraft, the production will recreate the legendary Rock and Roll hall of fame icon through mind-blowing holographic imaging on stage. Orbison will perform his greatest hits as well as newly recorded and never-before-heard arrangements of his classics accompanied on stage by a full symphony orchestra.
Recognised universally as one of the great rock and roll legends, Orbison's catalogue includes such chart-toppers as Oh, Pretty Woman, You Got It, Only the Lonely, Crying, I Drove All Night, It's Over and In Dreams. This tour will allow fans the chance to experience one of the most iconic figures in the history of music in a thrilling way as Orbison and his trademark three-octave range voice comes back to the stage he commanded for decades.
Don't miss your chance to see this rock and roll icon in a first of its kind live concert at Perth Arena.