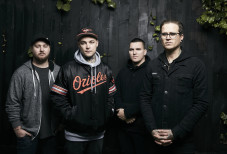 31/12/2016
Redfest is the first New Year's Eve event of its kind in Western Australia and will bring the very best of the burgeoning Australian heavy music scene to Perth and showcase them alongside fine local talent set to a breathtaking backdrop of the Perth cityscape. Heading the inaugural Redfest will be The Amity Affliction.
Redfest will be the first time The Amity Affliction has played in Perth in over a year since The Big Ass Tour in 2015. As the band count down the days until the release of This Could Be Heartbreak, their fifth album follows on two consecutive ARIA #1 albums, one Platinum and three Gold records, as well as a ARIA #1 gold-certified documentary. Northlane will return to Perth off the back on absolutely massive year for the band which has seen them grow into one of Australia's most successful heavy music exports. In the past 12 months, Northlane released their ARIA #1 album, Node, scored triple j Feature Album, won the ARIA Award for Best Hard Rock/Heavy Metal Album, dropped a surprise collaboration EP called Equinox with their best mates In Hearts Wake and slayed massive stages around around Australia, UK and Europe. You can't have a New Year's Eve party without inviting the boys from Deez Nuts. Since releasing their fourth album Word Is Bond, Deez Nuts have crammed into the van and hit stages all over the world. Currently doing another lap of Europe, Deez Nuts will be well seasoned on the festival stage. Hometown heroes Make Them Suffer have had a big 2016, with an even bigger 2017 on the horizon.
A new record deal with Rise Records, worldwide touring, festival appearances and crushing new single Ether tearing up the triple j airwaves are all a precursor to the guys and girl taking over the heavy world.