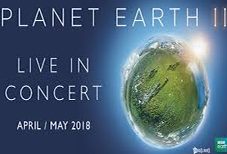 27/04/2018
BBC Worldwide Australia and New Zealand (ANZ) and TEG Live are bringing Planet Earth II Live in Concert to Perth Arena on 27 April 2018. The show, narrated live by Australian actor Eric Bana, features breath-taking footage from the acclaimed BBC Earth series projected on a giant screen with the West Australian Symphony Orchestra performing the incredible music live with conductor, Vanessa Scammell.
Produced by BBC Studio's acclaimed Natural History Unit and presented by Sir David Attenborough, Planet Earth II was filmed over three years using advanced technology, elevating natural history to a whole new level and allowing audiences to experience nature from a completely new angle – closer, more immersive and more surprising than ever before. The stunning footage is set to a beautiful score by Oscar winner Hans Zimmer, Jacob Shea & Jasha Klebe for Bleeding Fingers Music.
Planet Earth II Live in Concert will take the audience on a journey to the most spectacular landscape, cities and habitats on Earth and bring them eye-to-eye with the animals that live there. From rubbing shoulders with our acrobatic primate cousins in the steaming jungles of Madagascar, racing alongside fearsome hunting lions in the remote sandy deserts of Namibia, facing stormy Antarctic seas with a family of penguins and feeling the raw tension as a baby iguana tries to escape the clutches of deadly racer snakes to witnessing dancing grizzly bears and the bravery of a mother snow leopard.