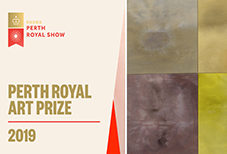 24/09/2019 - 26/09/2019
53 of Western Australia's best landscape artists have been shortlisted for the $23,500 Perth Royal Art Prize. The prize – one of the largest in WA – attracts entries in a broad spectrum of styles and mediums, with the mission of promoting the high standard of artistic talent within the state. This year's shortlist includes well-known artists from across urban and rural WA, each who bring their own perspective on the theme of landscape. Robert Gear, Susan Hoy, Sue Leeming, Waldemar Kolbusz, Bruce Slatter, Alastair Taylor and Wade Taylor will all be exhibiting for a record third consecutive time, continuing an impressive run of success. Other notable artists include Angela Stewart, Jonathan Tarry, and a number of Aboriginal artists including Doreen Chapman and Rusty Peters.
The Perth Royal Art Prize exhibition will be open for public viewing from 24 September – 26 September from 6pm to 8pm (admission free), and during the 2019 Perth Royal Show, Saturday 28 September to Saturday 5 October 2018, from 9am to 8pm. General Show admission prices apply during the 2019 Perth Royal Show.