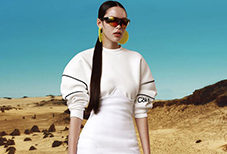 12/09/2019 - 21/09/2019
Now in its 21st year, Perth Fashion Festival is one of Australia's premier fashion events. It has cultivated an international reputation for fostering some of Australia's most sought after creative talent and showcasing Western Australian designers on a global stage. Each year will be bigger, better and brighter than ever before as we both share the same vision of creating a brilliantly connected future for everyone to enjoy. View the festival program and see some highlights below.
Fashion Paramount
12 – 14 September
Perth's vibrant Yagan Square precinct will be transformed to host an exhilarating and reinvigorated Fashion Paramount, presenting an outstanding display of style and creativity throughout six incredible runway events. Featuring the latest collections from some of the most prominent local, national, and international designers, the evening runway shows are some of the most exciting the festival has to offer in its rich and diverse history. Experience the very best of West Australian fashion, with the magnificent city skyline sparkling in the night sky. Find out more about the Fashion Paramount Runway Events here or purchase your tickets through Ticketek.
Fashion Central
15 & 21 September
Yagan Square, Forrest Chase, Wesley Quarter, 140 and other city destinations will once again be the centre of action with a host of free runway shows, events, exciting window creations and activities to bring a vibrant atmosphere to the City of Perth. City of Perth Fashion Central will present the very best of spring/summer 19/20 trends and after getting inspiration from the runway you can shop the looks at the many stores and boutiques in the area. Perth is a haven for style, from affordable to luxury, men and women, all tastes and styles are accounted for with these eclectic shows.
Take part in a model search, watch a flash mob come to life or just enjoy the runway shows featuring leading national and international brands, plus the highly anticipated multicultural runway and indigenous runway, or why not go to them all? We can't wait to see you all there.