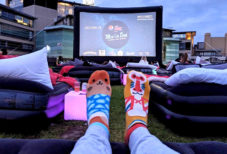 18/10/2019 - 08/12/2019
With a spectacular 150 beds under the stars, Mov'in Bed is the biggest outdoor bed cinema in the world, and surely the most comfortable. Blankets, glow side tables, mattresses and a premium pillows experience by Ecosa are here to keep you warm and comfy. Located in Perth's Ozone Reserve, this unique cinema experience will be boosted by a giant screen and surrounding stereo sound systems for 45 screenings. From the biggest classics, the latest Blockbusters, the unmissable movies of the year, fantastic Disney classics, exciting Japanese Animations to Horror movie Nights. Each night, discover a new movie, it's an outdoor movie Festival!
And you can dine in bed! If you think a breakfast in bed is cool, try the "Dine in Bed" experience. We work with the best restaurant in the local food scene, and they deliver your favourite food straight to your bed while you enjoy a glass a wine under the stars. Can it get any better than this?