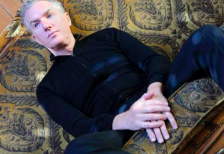 24/11/2016
Admired for his subversively witty and well-arranged records, Serge
Gainsbourg is considered one of the most important and influential figures
of popular music in France and around the world. In his translations, Mick
Harvey has revealed the clever and often provocative nature of Gainsbourg's
work to non-French speakers. Performing with a full band, string section and guest vocalists, Harvey will perform tracks from the latest album plus favourites from the previous three volumes, Intoxicated Man, Pink Elephants and Delirium Tremens. Rarely performed live, don't miss this opportunity to see a master musician's interpretations of a legend's work.