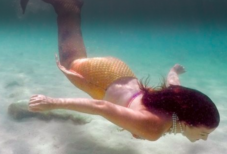 02/12/2017 - 17/12/2017
Dreams can come true with Mermaid Magic! Snorkel with a Mermaid and learn some mermaid tricks in AQWA's brand new Adventure Bay aquarium! This adventure is available to ages 8+ and is lead by one of AQWA's friendly Divemasters, along with one a Mermaids, in our brand new exhibit- Adventure Bay!
INCLUDES:
Full equipment hire
Snorkel instruction by one of AQWA's PADI qualified Divemasters
Chance to swim with a mermaid! Discover basic mermaid swimming styles, like the mermaid kick and glide. Full program length 1 hour: At least 20 minutes in-water and up to 10 minutes of "free snorkelling time" with our mermaid in Adventure Bay. Chance to have a chat and take a photo with a mermaid. Souvenir mermaid print, signed by your new mermaid friend!. Free entry to all of AQWA's marine exhibits *Please note participants will NOT wear a mermaid tail/mono-fin during this experience. Standard snorkel fins are used.