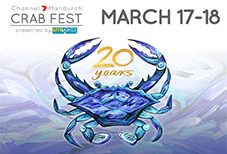 17/03/2018 - 18/03/2018
Mandurah Crab Fest is the largest free community event in Western Australia and will be held on 17 and 18 March attracting over 120,000 locals and visitors to the City of Mandurah. The event showcases the lifestyle, location, culture and talent that makes Mandurah so unique. Of course, Crab Fest would not be Crab Fest without a celebration of the native blue manna crab!
Fresh food, live music, performances, children's entertainment, competitions, cooking demonstrations, celebrities, aquatic entertainment… the list goes on.
If you want a taste of Mandurah this is the festival for you!