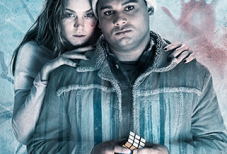 11/11/2017 - 03/12/2017
Black Swan State Theatre Company presents LET THE RIGHT ONE IN, a stage adaptation by Jack Thorne, based on the novel and film by John Ajvide Lindqvist, from 11 November – 3 December, 2017 at the Heath Ledger Theatre, State Theatre Centre of WA.
A deeply moving and enigmatic tale of friendship – of promises made and bonds sealed in blood. This stage adaptation of the acclaimed Swedish novel and film, Let the Right One In tells of a friendship between a boy and a centuries-old vampire. Oskar is a bullied lonely teenager living with his mother on a housing estate on the outskirts of town. Eli is the young girl who has just moved in next door. She doesn't go to school and never leaves the flat by day. Sensing in each other a kindred spirit, the two become devoted friends. What Oskar doesn't know is that Eli has been a teenager for a very, very long time. When a spate of sinister killings rock the neighbourhood, their lives become further entwined. How will they survive in a world that seems destined to tear them apart? New Artistic Director Clare Watson marks her Black Swan directorial debut with this beguiling myth and coming-of-age love story.