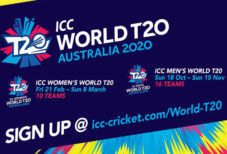 18/10/2019 - 08/03/2020
The ICC T20 World Cup is the pinnacle global event for the fastest growing format of the game. In 2020, the world's best cricketers will be on show in Australia for two World Cups!
ICC Women's T20 World Cup: 21 Feb – 8 Mar 2020
ICC Men's T20 World Cup: 18 Oct – 15 Nov 2020
The Women's and Men's events will be standalone Tournaments held right across Australia in eight host cities and 13 venues. Both Finals will be played at the biggest cricket stadium in the world, the Melbourne Cricket Ground.
The Final of the Women's T20 World Cup on International Women's Day 2020 presents a ground-breaking opportunity to set a world record for attendance at a women's sporting event of 90,186.
The Men's Tournament will be a spectacular global celebration with 45 matches, featuring 16 teams taking place across the country.
Global pop superstar Katy Perry will perform exclusively at the final of the ICC Women's T20 World Cup 2020 on Sunday 8 March – International Women's Day – at the MCG. Katy Perry will perform during both the pre-game show and the post-match celebration in what is anticipated to be the biggest women's cricket match of all time.
Don't delay, secure your tickets today!