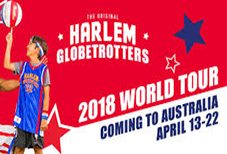 22/04/2018
The world-famous Harlem Globetrotters are set to thrill Australians with their iconic brand of basketball during a national tour in April 2018.
NBL Owner and Executive Director Larry Kestelman said he was delighted to bring the Harlem Globetrotters to Australia."The Harlem Globetrotters have entertained millions of people all over the world for 92 years and we are excited to have them here in Australia next April," he said.
Their unique basketball skills and wizardry have thrilled fans around the world and they are synonymous with family entertainment and breaking down barriers and social divides. They hold 17 Guinness World Record Titles and recently tipped off their 2018 `Amazing Feats of Basketball' World Tour of more than 30 countries around the globe.