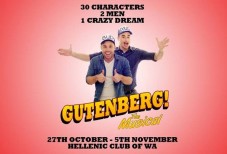 27/10/2016 - 05/11/2016
Bud and Doug, a pair of aspiring playwrights, perform a backers' audition for their new project – a big, splashy musical about Johann Gutenberg, the inventor of the printing press!
With relentless enthusiasm and misguided optimism, they sing all the songs and play all the parts in this crass historical epic, hoping one of the producers in attendance will give them a shot at Broadway stardom. This multi-award winning madcap musical comedy by Anthony King and Scott Brown ran off-Broadway in 2006, and is presented for the first time in WA by Fringe World favourites Holland St Productions (Point & Shoot, Dr Felicity Rickshaw's Celebrity Sex Party).