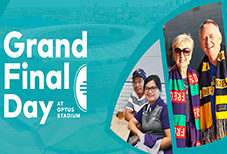 28/09/2019
Join your fellow footy fans and soak in all the action from the biggest day in the sporting calendar at the home of WA footy. The Ultimate Grand Final Experience!
Indulge in a buffet lunch and beverage package in the stunning River View Room. Match shown live on screens within the room or head outside and watch it on the Stadium's super screens. Hear from footy personalities – their tips plus commentary on the game and entire season. Exciting door prizes, including event tickets. Photobooth to capture your #gamedayselfies
The festivities kick off at 11am. Hurry book your place now!