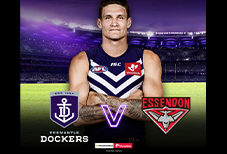 17/08/2019
The Bombers are back in town for the second time this year. This time they take on the Dockers in their final home and away game of 2019 under lights in a highly anticipated clash.
Dine before the match – Visit 1 of our 2 restaurants at the Stadium.
Enjoy a buffet menu at the City View Cafe with a complimentary drink or head to the Goodwood restaurant for a lush pre-match experience.
Catching public transport? Download the Optus Stadium App to plan your public transport journey.