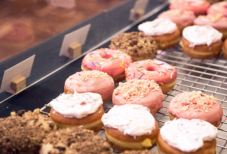 13/05/2017
Flour Market is coming for the sunny West Coast and have our sights set on the sweetest treats Perth has to offer! We're delighted to announce our first West Coast road trip with the inaugural FLOUR MARKET WEST COAST BAKE! From all corners of Perth we've chosen ten vendors renowned for their doughnuts, cakes, bread and bakes including:
Baker St
Baked 180
Bittersweet Bakes
Carina's Kitchen (Vegan cakes & bakes)
Glazed & Confused
La Paleta
Lena Lu
Little Sweet Baking
Mary Street Bakery
Sherbet Bake Shop
The Flour Press
Top Dup Donuts
Wild Bakery
Coffee by Coffee Pod at The Goods Shed Launching at The Goods Shed in Claremont, and presented in collaboration with FORM, we look forward to making Flour Market a regular fixture on the Perth baking community calendar. With an idea to hold the event the day before Mother's Day, bring Mum along or pick up something as a Sunday treat!