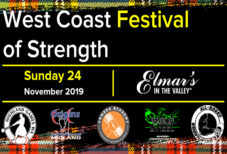 24/11/2019
Elmar's in the Valley & Highland Games WA present West Coast Festival of Strength on Sunday 24th November from 11am! The festival will feature an exciting mix of strength sports competitions, displays and market stalls.
Highland Games WA – Highlander (Scottish Strongman) Competition
Hands of Steel – Arm Wrestling Seminar
All Round Weightlifting – Old Time Weightlifting and Strongman Competition
Origins Weightlifting – Olympic Weightlifting Competition
Lamda Academy – Push Pull Powerlifting Competition
Elmar's in the Valley will be serving BBQ German goodies from the Alfresco plus some traditional Scottish specialties. The garden bar will be open pouring Elmar's biers plus a special event brew – Highlander Ale will be available.
To enjoy a sit-down lunch inside the restaurant we highly recommend you reserve a table here: http://bit.ly/ElmarsBookings. All restaurant bookings will receive a token to gain entry into the event. The Biergarten will not be accessed via the restaurant, entry to the event will be via the side gate and ticket or token will be required. No outside tables will be available to reserve, this is based on first in best dressed with an event ticket.
Tickets are now selling- Adults $6.65 & Child under 15 FREE. This is an all ages ticketed event, purchase tickets here. Tickets will be available at the gate on the day $10.00 providing capacity isn't reached prior.