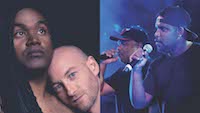 09/02/2018
We open the Gardens this February with a hot new wave of contemporary artists – soulful innovators who fuse tropical beats and infectious grooves that transcend time.
Electric Fields, a duo of grinding electro-pop splendour, show us why they are tipped as the hottest new act in the country. With an angelic lead vocal evoking Anohni and Sia in each spine-tingling crescendo, they'll take you to dizzying heights. Kicking off the evening we present Kardajala Kirridarra, a troupe of women from the sand hills behind the remote community of Marlinja, in the Northern Territory. Combining ethereal voices with hip hop and electronica, in collaboration with producer/multi-instrumentalist Beatrice Lewis, these women will explode your concept of Country. Closing the night are maestros Skinnyfish Sound System, remixing their catalogue of masters with live didj and beat poets who throw Arnhem Land rap with flair.
Want to live it up as a VIP at the Gardens? Limited VIP Experience seats are available for each show at the Chevron Gardens this year. With a guaranteed seat within the VIP area and your own dedicated cash bar, grab your friends and be the envy of everyone at the Gardens.