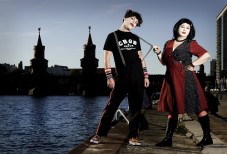 23/10/2016
Dysfunctional siblings Astrid and Otto are Die Roten Punkte, Berlin's Prince
and Princess of art rock and Europop. Their award-winning shows are a wild
rock and roll cabaret ride, full of hilarious and catchy pop songs.
Following sell out shows in New York, Sydney and Edinburgh, the duo is
touring Australia with Super Musician. Described as a lipstick-smeared,
tantrum-loving, sonic collision between the B52s, Kraftwerk and early
Ramones, Die Roten Punkte are truly one of a kind. Astrid's avant-garde style
and legendary antics inspire both reverence and fear, while Otto's dynamic
stage presence brings to mind a whirling dervish. Super Musician is one of the
most irreverent and funny gigs you are likely to see.