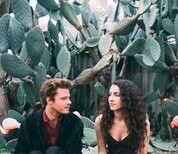 30/10/2016
Sunday Music returns in 2016-17 with a great line up of local and touring acts
performing free shows in Fremantle Arts Centre's leafy Front Garden. From
October to December enjoy everything from dreamy folk to hard-hitting soul,
bluegrass, rock, blues and more.David Craft (WA) will draw you in with his rich
velvet baritone, compelling storytelling and intricate arrangements. Craft will be joined by playful pop songstress Stella Donnelly (WA).